Cloud security and how Navigance protects your data
Security concerns still hold some chemical producers back from realizing the benefits of cloud computing. But serious, long-mature service providers have made huge strides in data security and privacy – and can help you solve other operational headaches too.
In this article you can read about:
The irony of this is not only do the on-premise technologies they use instead need ongoing local maintenance, management, and all the investment that entails, but they may also be less secure than the online alternative.
For all of today's most notable cloud service providers, security is both central to their offering and vital to their reputations. What's more, they offer their services from data centers located within the EU or other regions to suit customers' needs or preferences, and so fall under those regions' jurisdiction and regulations.
By not adopting cloud technologies, chemical producers miss out on all the benefits and opportunities that come with them. Benefits their competitors may already be enjoying. Rapid deployment, instant scalability, and improved cost efficiency are the main advantages. We'll explore these benefits in more detail, and the increased rate of cloud adoption they're fueling, in our next blog.
Here, we'll look at the reasons to feel confident you can realize the benefits of cloud services without risking your data's integrity.
Cloud security: stronger than ever
Managing the security of any type of business computing can be costly and time-consuming. From data encryption and firewalls to role-based access controls, 24/7 monitoring and maintenance, plus the regulatory compliance and certification that go with them, it's a lot to keep on top of, especially if your core competencies lie somewhere else.
While it may be tempting to think keeping everything on site gives you more control of your data and applications, and limits the number of people with access, the reality can be quite different. It makes increasingly little sense to take on this burden.
The measures put in place to protect the data of those using cloud services has never been more robust than they are today. So much so, Gartner insights predicted workloads processed using public cloud services would suffer at least 60% fewer security incidents in 2020 than those that used traditional data centers.
The most reliable cloud providers will provide multi-layer security that includes all of the common-sense measures you should expect as a minimum: access controls, encryption of all data in transit and at rest, network protection, and security for applications.
Many go even further, adding rock-solid physical data center security, continuous validation, and protection against the mass deletion of files. And they continuously monitor for threats, suspicious login attempts and other suspect activity.
A further benefit of using cloud over on-premise computing resources is they offer the reassurance of 24/7 availability of critical data and applications more cost effectively. In traditional data centers, disaster recovery meant mirroring key systems onto backup servers that sat idle for most of the time. In contrast, cloud services replicate them in multiple, secure locations so that if one source goes down another takes its place almost instantly.
So it's not surprising to see that more and more companies put their data into the cloud to leverage all these operational as well as security benefits.
Navigance security measures
At Navigance, we provide Software as a Service (SaaS) that relies on the sharing of large volumes of data both upfront during implementation and continuously. So it's vital to provide highest-level security to satisfy privacy needs and strict regulatory demands.
We use a combination of measures as standard to protect sensitive data from unauthorized access or loss. These measures keep production teams firmly in control of their information at all times.
There's no need to give Navigance access to your DCS. You can benefit from our services by enabling a secure one-way data push to the cloud, and you stay in control at all times which data is shared. We offer a choice of options for secure automated data transfer to suit a plant's policies and preferences. And industry-leading Advance Encryption Standard (AES) protects all data transfer, storage, and connections.
We use 'pseudonymization' to remove any direct association between a plant and its data. Information is segregated and stored in separate encrypted vaults within a virtual private cloud so it can't be pieced together for unwanted eyes. A 'no access' paradigm is applied by default, meaning access to any data is only possible when it is explicitly granted for a specific account or role.

Confidence and compliance
Navigance cloud storage is ISO-certified and provided by Amazon Web Services (AWS). This means you can be confident of all the security benefits that comes with this world-leading Infrastructure as a Service (IaaS) and Platform as a Service (PaaS) provider. (You can read more about the IaaS, PaaS and SaaS layers of cloud computing here.)
In addition, regional tenancy on Navigance instances means you can choose where your data is stored (in the EU or USA), to comply with data use and protection regulations such as GDPR. All data is backed up regularly in encrypted form. And we employ 24/7 threat monitoring to keep all data and storage safe from attack.
In summary
With today's high security standards, your chemical operation can adopt and realize the many benefits cloud-based technologies bring now.
The top service providers will be able to provide robust, multi-layered security that far surpasses what's usually possible by local teams managing on-premise IT systems and data storage.
What's more, making the move to the cloud enables you to cost efficiently tap into additional capacity and expertise when you need it. There is no need for your IT department to install or maintain any special software so that the plant teams can access Navigance services - it's easily accessible within a web-based interface from your standard browser. Find out more about the benefits of cloud services and how cloud services work in our other blog article on the topic.
Navigance can help you take the next steps and use your data securely to get you working smarter. We can connect with your own IT experts to discuss what you need and what's possible. So talk to us any time.
---
Read the other articles of our Cloud blog series: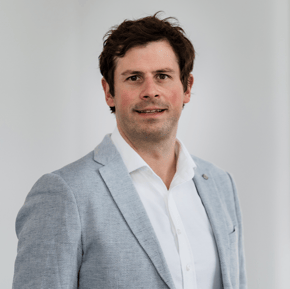 Sebastian Eckstein
As Product Manager, Sebastian drives the product development of our Navigance solutions. With his expertise gained in research and development positions in the chemical industry, he translates customer needs into a user-friendly software service.