Overcoming the barriers to digitalization in the chemical industry
With the recent increase in appetite to digitalize chemical manufacturing and growing awareness of where such technologies can be used effectively, what barriers are holding producers back and how can they be overcome?
In this article
Our previous blog looked at how digitalization efforts in the chemical sector have accelerated in recent years, and the growing role such technologies are expected to play in driving competitiveness and targeting sustainability goals.
Despite this, barriers to adoption remain and many producers admit they've yet to accelerate their own digitalization efforts.
This article considers the main challenges and concerns highlighted in Ernst & Young's recent chemical industry survey:
The good news is Navigance has answers to all these challenges, and solutions that make digitalization to meet your needs achievable now, however progressed you are on the journey.
Infrastructure and investment
The barrier to digitization cited by more respondents than any other was the technical infrastructure in their plants, which many viewed as too weak to enable digitalization of their operations in its existing state.
Some 40% of all those who took part in the EY survey cited their infrastructure as a concern, growing to nearly half (49%) of those in the Middle East and Africa region.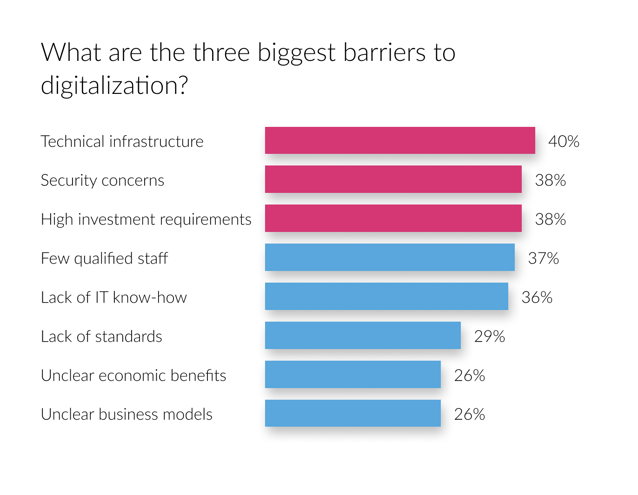 Barriers to digitalization according to chemical producers who respondedto the EY DigitChem SurvEY 2022
Another challenge the survey highlighted is intrinsically linked to this point: the perceived need for large-scale investment in digital technologies and the infrastructure to support them. This troubled over a third (38%) of all companies surveyed and those in North America (46%) in particular.
In fact, in many cases the foundations for digitalization are already in place, both in terms of the required infrastructure and the chemical process data that can make digitalization so invaluable. This foundation enables manufacturers to digitalize in a series of clear and defined steps, taking them at a pace that's both comfortable and keeps up with the industry.
With Navigance, chemical producers can add the digitalization tools and services they need when they need them, based on the existing infrastructure already at their sites. And there's no need for costly investment in further on-site infrastructure and its maintenance, as our Software and a Service (SaaS) solutions provide access to analytics and collaboration tools in the cloud via a browser interface instead.
Most Navigance solutions can be implemented within a few weeks and constantly improve over time as we introduce new features. And you can expand into new digital functionality as you need to, without the need for many different tools from many providers.
Security matters
The acceleration of digitalization in chemical production only amplifies existing concerns about data security, as breaches may pose a risk to both the confidential of information and the ability to continue operating. EY found 38% of respondents cite security concerns as a barrier to implementing digitalization. The issue was most pressing for producers in the Asia-Pacific region (41%).
As we've highlighted in earlier posts, however, Gartner insights suggest processed using services hosted on secure public cloud servers are likely to suffer fewer security incidents than processing via the traditional method of on-site data centers.
At Navigance, we've built robust, multi-layered security into our solutions from the ground up to give producers the confidence their data will remain firmly under their control.
If you're looking to digitalize aspects of your operations, our experts will consult with you to realize secure, automated transfers of your data to our analytics tools in the cloud, encrypting your information so that only those who should see it can.
When AB Achema, a leading producer of nitrogen fertilizers and chemical products in Lithuania, wanted to improve its chemical processes, security was a critical requirement as we established automated data transfers to our analytics services in the cloud.
"We were initially concerned about the potential complexity of such a solution and the cyber security aspects," says Sarunas Purvinis, Senior Project Engineer at AB Achema, of its decision to implement the Navigance Optimization Engine. "However, Navigance guided us excellently throughout the whole process, from choosing a suitable solution for our purposes to its implementation and usage."
The result was not only an end solution but also a partner experience that gave the fertilizer and chemical producer confidence it had made the right choice.
"We felt [we were] in good hands and found an automated data transfer solution which met all our requirements: high performance, highest security standards, and economically attractive."
Experience tailored to chemical processes
The unique combination of both advanced tools and expertise that Navigance provides also helps to alleviate other barriers to digitalization highlighted in the EY survey.
For instance, despite some improvement in recent years a digital skills gap persists in the industry. Some 37% of respondents admit they lack personnel with the experience digitalization initiatives require. The issue is especially pronounced in Europe, where the number rose to 50%.
The Navigance approach helps to overcome this obstacle by providing:
Simple digitalization solutions that are already supporting a wide range of chemical processes and plant setups,
Intuitive tools plant teams can make use of themselves as required, and
Guidance from our own experienced team of experts in chemical processes and data science
As such, we can complement plants' own personnel and help identify where there is potential to digitalize operations, reporting back on the potential benefits and building the business case for investment. And we tailor our services and solutions to meet each plant's specific priorities, chemical process, setup, and technology mix.
Our tools make it easier for colleagues and news hires to pick up where others leave off, with access to all the same data, analyses, and recorded actions, available from anywhere through our secure interface. And our team lends support through ongoing insights and optimization recommendations based on trends in the data, too.
A long-term partner for digitalization
The EY findings and our own survey of the chemical sector together show that, both before and since the Covid-19 pandemic, there's been a general awareness among most producers of the need to digitalize.
While efforts to do so have been gathering momentum, some manufacturers still lack a strategy for how to do it or the time needed to put it into practice. Yet put it into practice they must if they're to keep up with others in the sector.
Navigance's advanced, cloud-based digital tools and services can be implemented quickly, with very little effort on the part of your own team. Our full suite provides a comprehensive, integrated solution for the digitization of chemical operations in the right way and at the right pace, and on a single, common platform that's simple to extend to other processes and plants as needed.
Plant teams aren't simply handed the tools and left to their own devices. Our experts – together with key partners via the Navigance Service Portal – are there for the long term, provide insights and advice based on the data feeds to complement any level of in-house capability.
So, if you're eager to keep pace with the sector and take the next steps on your own digitalization journey, let's talk about Navigance can help.
Don't miss out on new articles.
---
Further reading
Blog: Digitalization – the landscape and needs of chemical plants
Blog: Why you need to optimize now
White paper: Advance with intelligence – digitalize and optimize your chemical production
EY article: Why the chemical industry is prioritizing digitalization