Implementing intelligent plant monitoring
How to implement 24/7 monitoring of your chemical plant and proactive alerting about issues in your process data you may need to act on early to avoid downtime.
This article looks at the steps involved in deploying a custom solution for intelligent, 24/7 monitoring, issue detection, and alerting in your chemical plant. We'll cover:
For more information on the benefits of intelligent monitoring please visit the Navigance Plant Monitor product page or read our blog series on example use cases.
Industrial AI and plant availability
One of the most pressing concerns for chemical producers today is the need to minimize unplanned downtime and its related costs – from lost production to quality deviations and reputational harm.
Manufacturers increasingly recognize the role technologies such as industrial AI can play in improving process efficiency. Whether they're ready for it to do so can depend on their level of digital maturity.
Fewer producers also see the potential of these technologies to increase plant availability too. That's despite it being a more pressing priority for many, and one they can take steps to address now.
Even those who do appreciate the opportunity may be slow to realize it, as effective adoption depends on in-house capacity and expertise that are often scarce.
That's why, at Navigance, we're not only raising awareness of the potential for intelligent plant monitoring but also making it easy to introduce in a way that's right for you.
Plant monitoring made easy
Navigance solutions combine cutting-edge cloud-based analytics tools with our own deep expertise in both chemical engineering and data science.
These are packaged together into convenient Software as a Service (SaaS) offerings that are easy to introduce when you need them. In this way you can optimize what matters today, and at the same time lay the foundation for further optimization tomorrow.
Think of it as not only arming your own team to make more focused use of your data and their time, but also extending it with access to our external experts too.
With the Navigance Plant Monitor, for instance, we implement process monitoring at your chemical plant that's continuous and customized. This allows for effortless, meaningful, and ongoing monitoring, issue detection, and alerting. With it you can shift from a reactive to a proactive footing, keep plant uptime high, and your focus on your core operations.
The Navigance Plant Monitor at a glance
Implementing the Navigance Plant Monitor equips your team with:
24/7 monitoring and contextual alerting: advanced analytics technologies, including machine learning algorithms, monitor your process data around the clock to spot issues and alert you to them early so you can tackle them and maximize uptime.
A customizable dashboard: this provides a single view of live and past alerts, any suggested fixes that have been recorded, and the patterns in your plant and process data. It's accessible securely from anywhere.
Ongoing support: our Navigance process and data science experts are always on hand too; going beyond the design and deployment of your Navigance Plant Monitor with ongoing analysis and advice based on its findings.
If this sounds like an appealing combination, what's involved in getting it up and running in your plant? Implementation is typically split into two phases: onboarding and subscription.
Implementation and onboarding
The onboarding phase includes the implementation of algorithms for real-time data processing, monitoring, and alerting to suit your plant's specific setup and needs.
The first step is to define the scope of the monitoring solution. Commonly producers start with implementation for a specific unit operation or equipment that has high impact on their plant's availability. We collect important information about the instrumentation, its context and scope within your chemical process. This helps us make sure we tailor algorithms precisely to capture the dynamics of your plant operation, so that meaningful and relevant alerts on deviations are generated.
Next we agree with you the format for secure data sharing from your plant to our cloud-based analytics platform, and set up plant specific data pipelines. This step is important to make sure your data is correctly ingested and cleaned ready for effective processing. And we'll work with you to identify the best way to enable automated data uploads that meet the highest security standards.
The implementation and training of our monitoring algorithms require historic data from your plant in high resolution, so we'll ask you to provide it. In case you don't have sufficient historic data or can't extract them from your system, we will first implement the automated data transfer and start collecting data as part of the onboarding process.
Contextual information, such as past events in your historical data sets, if available, will help increase the performance of the algorithms from its implementation.
During the onboarding phase we also create the specific dashboards you'll use for monitoring within the web-based interface. These can be tailored to the focus of each colleague or team in your plant – whoever needs access. Finally, we identify who in your team needs to be alerted in the event an anomaly or deviation is detected in your process data and activate the notifications.
The implementation and onboarding process – depending on the complexity of its scope – typically takes around 6-16 weeks and concludes with an onboarding meeting.
Subscription and ongoing monitoring
The onboarding meeting is effectively your 'go live.' At this point your regular subscription starts, 24/7 monitoring is up and running in your plant, and proactive alerting is available to the agreed members of your team.

The Navigance Plant Monitor will monitor your data continuously, flagging any deviations or anomalies automatically as instant or summarized notifications either in the dashboard or by email. Our team will also continue to support you with periodic recommendations for fine-tuning of your plant monitoring system and chemical process.
Going further: options for extension
At Navigance, we aim to help producers continuously optimize chemical production, guiding them on each step of their digitalization journey to optimize what matters now and next.
As such, it's easy to extend the monitoring scope of your Navigance Plant Monitor within the same plant, for instance to new equipment of sections of your process, or roll it out to other plants and facilities.
Once you're achieving consistently high levels of plant availability and are ready to look at optimizing your chemical process, it's also easy to turn on additional services that recommend ways to do so automatically and around the clock.
Whether extending capabilities to other processes and plants or broadening your optimization ambitions, Navigance enables you to do it on one integrated, comprehensive platform you can access securely anywhere in the world.
Ready to optimize your plant uptime?
Talk to us today, so we can find a solution for your monitoring need or request a benefit assessment to see the potential in your plant.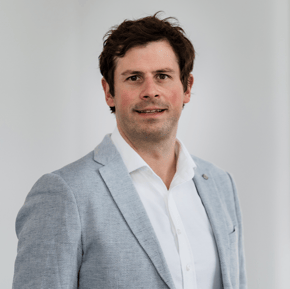 Sebastian Eckstein
As Product Manager, Sebastian drives the product development of our Navigance solutions. With his expertise gained in research and development positions in the chemical industry, he translates customer needs into a user-friendly software service.