Why you need to optimize your chemical process now – part 2
In our last post, we looked at how economic downturn and its effect on the chemical industry is driving the need to optimize its processes.
In this continuation, we consider two other trends that are doing the same – and accelerating. Plus, how digital tools can help get ahead of those trends.
What's in this article?
We'll focus on two more critical drivers for process optimization in chemical manufacturing:
An ageing workforce – and a looming experience crisis

A growing emphasis on sustainability
We'll also share how digitalizing with the right technologies and expert support can help to tackle these challenges sooner rather than later.
A quick recap
The readiness of different chemical producers to optimize their process depends as much on their digital maturity as their ability to free up resources for the task.
For those less confident about taking the steps needed to optimize now, more pressing priorities such as operational safety and plant availability take precedence. Attention may only turn to improving process efficiency once those concerns are comfortably in hand.
However, as we explored in our last post, economic downturn in the sector – exacerbated by the Covid-19 pandemic, is driving the importance of doing more with less. And it's not the only trend to do so that's gaining pace.
An ageing workforce
Besides economic pressures, a now burning challenge for the industry is the large proportion of its workforce who are approaching or have already reached retirement age. It's a phenomenon first raised by industry analysts years ago. Today, we're in the eye of the storm.
As much as five years back, a study by Accenture and American Chemistry Council (ACC) found over 20 per cent of people working in the sector would reach retirement age by… around about now.
Left unchecked, it warned, this rate of turnover could increase hiring and training costs, create more unplanned disruptions, and damage profitability. Worse of all, it could risk the safety and integrity of operations, meaning greater efforts and expense in order to safeguard them.
Today, this skills deficit is widening because replacing colleagues leaving the sector has proved difficult. There is competition for the best-quality candidates. Engaging millennials with a future in the industry can be a challenge. And, of those eventually hired, not all stay for long.
In North America, the Accenture and ACC study found attrition rates in the millennials age group were as high as 50 per cent for most chemical companies surveyed. And for those eager enough to stick with it, the shoes they often have to fill are large.
A smooth transition
We've identified elsewhere how traditional approaches to running and troubleshooting operations requires long-standing expertise, a thorough grasp of established principles, correlations and theory, as well as a healthy dose of informed guesswork. As such, conventional 'optimization' – whether it's to ensure system uptime or fine tune a process – can be something of a dark art.
That's hard to teach because it's become so intuitive to those who are leaving. And it takes time producers can no longer afford for new recruits to learn, however eager they may be. Fortunately, digital technologies are helping to provide an answer.
Digitalizing operations can reduce traditional workloads, freeing up personnel from tasks that are either repetitive or difficult to achieve manually, allowing them to add greater value elsewhere.
For an optimization point of view, digital technologies such as machine learning, properly deployed, can recommend ways to optimize in near real time. They do it using volumes of plant data you could never hope to analyze or draw meaningful conclusions from manually.
Imagine, as a new recruit, getting round-the-clock, actionable recommendations based on current and predicted conditions in your plant. Or checking back over a history of those recommendations, your predecessors' own expert assessments, and any actions taken as a result. And all in one place.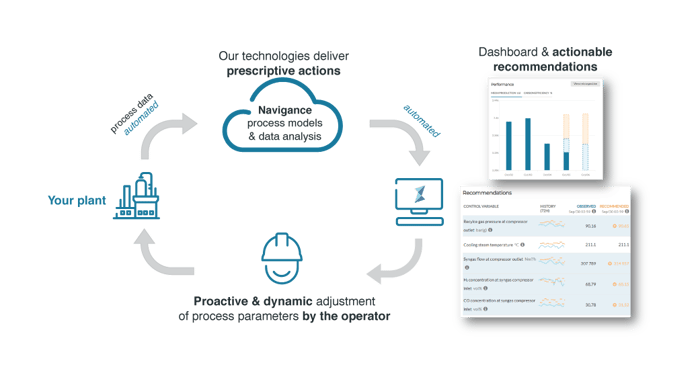 With such a tool – plus expertise to help you make the most of it and offer further advice – you could optimize with confidence. Making fast, effective decisions based on data-driven assessments that help you take your plant to higher efficiency, but without spending hours analyzing and interpreting trends yourself.
The drive for sustainability
Another argument for introducing optimization technologies is their potential to help chemical producers make better use of resources – from energy to raw materials.
Public awareness of the need for sustainable consumption continues to grow at pace. What's more it's an area that's likely to see increased regulation and a growing need to demonstrate compliance.
All of this means existing programmes designed to offset the impact of chemical operations are no longer enough. Instead, producers must look to change their products and ways of working so they are more environmentally responsible.
No surprise, then, that investment in sustainability initiatives is another industry trend that's accelerating1. Areas of focus for that investment include re-examining chemical companies' assets, decarbonization technologies, alternative feedstocks, closed-loop recycling techniques, and reduced use of hydrocarbons. But such investments can be substantial and take anything from months to years to embed and bear fruit.
Where we get our energy and how we use it will be of heightened importance, whether limiting consumption from existing sources or finding newer, more renewable sources altogether. And getting the most from what goes into a chemical process while minimizing emissions will be vital too.
Digital technologies are one part of a suite of measures needed to tackle the issue, but an important part, nonetheless. Not least because they can help to make a significant contribution relatively quickly, and without the same high level of expense.
The Navigance Optimization Engine, for instance, can help plant teams deliver on their sustainability promises time and again. If energy consumption or use of materials are key measures, the Navigance team will tailor it with those objectives and any relevant parameters or constraints in mind.
Once up and running, the Optimization Engine continually recommends ways to fine tune process control variables to hit those objectives, presenting them in a single interface personnel can access on any device and act on quickly.
Too soon to optimize?
The trends we've discussed briefly here only look set to gain pace, and the need to optimize sooner rather than later shouldn't be overlooked.
If where you are on your own digitalization journey means you're not confident or don't feel ready to fine-tune the finer points of your process just yet, Navigance can help you take the steps needed to get there.
Do you need to visualize your plant data more clearly to identify critical areas of focus for your team? Or could you benefit from 24/7 monitoring and proactive alerting to help you achieve consistently high uptime plant availability? Navigance uniquely combines state-of-the art technology and long-standing chemical process and data science expertise to make digitalizing easier.
What's more, as soon as you're ready to take that last important step needed to continuously optimize your chemical process, it's the same platform, technologies and support that will help you do it, without tying up your own team.
So let's talk, and make sure you're ready for all that the future has in store.
---
1 The shifting landscape of chemicals and materials: The COVID-19 impact on the chemicals industry (Deloitte, October 2020)
---
Explore further:
Optimizing chemical production using data-driven, AI-enabled hybrid modeling
Smart use of your plant's data can take process efficiency to a higher level. Hybrid models driven by artificial intelligence deliver the best results for the least effort. And you don't need a data science degree to enjoy them.
Read More
Navigance white paper:
Make technology work for you, not more work for yourself.

AI-enabled data analysis unlocks hidden process optimization potential, effortlessly and without tying up your resources. Our free white paper reveals where to start.